SUCCESSFUL SOLUTIONS FOR CHRONIC PAIN
Innovative Therapy Canada is an established chronic pain therapy clinic offering unique and proven custom therapies that effectively treat, cure, correct, and help manage painful conditions that often do not respond to conventional therapy. For almost 20 years, our expertise in non-invasive procedures has contributed to the well-being of thousands of patients suffering from chronic pain.
What we offer…
Innovative Therapy Canada provides innovative, non-surgical, and non-invasive therapies to treat, cure, correct, and help manage chronic pain and other disabling conditions.
Our founder and lead therapist Glenn Cameron is blind, his heightened sense of touch developed reading braille is an invaluable asset used to diagnose and prescribe the best possible corrective therapy to treat, cure, correct, and help manage chronic pain. Glenn literally feels your pain, by completing a thorough and comprehensive examination of the affected areas using his heightened sense, he can identify the root cause and consequently prescribe the type of therapy that will treat, cure, correct, and help manage your condition….  You are in good hands.
We have been very fortunate to successfully treat, cure, correct, and help manage chronic pain for thousands of individuals.  Start your journey to a pain-free life! Contact us today!
"Innovative Therapy Canada is now my security blanket, which is a wonderful feeling because when you are in chronic pain, you want to know that you have your savior that can give you that help"
"Glenn gave me a whole new life. I am very happy to have found him. I want to let other people with this condition, know that there IS help out there".
"After my 3rd treatment, I contemplated going to the gym.  I haven't been able to do that in years! Glenn you truly helped give  me my life back!"
SOME OF OUR HIGHLY SPECIALIZED TREATMENTS
EQUIPMENT & THERAPY
How does the equipment used to treat my condition, affect my recovery? What is the Innovative Therapy Canada difference?
The effectiveness of any technology varies from one manufacturer to another. Independent laboratory tests that confirm the effectiveness of the technology are conducted using original manufacturer specs. EMS Systems Germany, Acoustic-based Extracorporeal Shockwave Therapy (ESWT) was used by researchers to establish the baseline upon which the world now understands as the true and proven shockwave therapy technology.  Unfortunately, based on the success of EMS Shockwave technology, other manufacturers have tried but are not allowed to copy EMS's patent protected design.
What does that mean to you? The two most important factors to your recovery are identifying the issues and treating them using appropriate equipment.
We use EMS exclusively and are the busiest users of the technology in Canada.  You deserve peace of mind, we can provide it.
Below are the most commonly treated conditions at the clinic: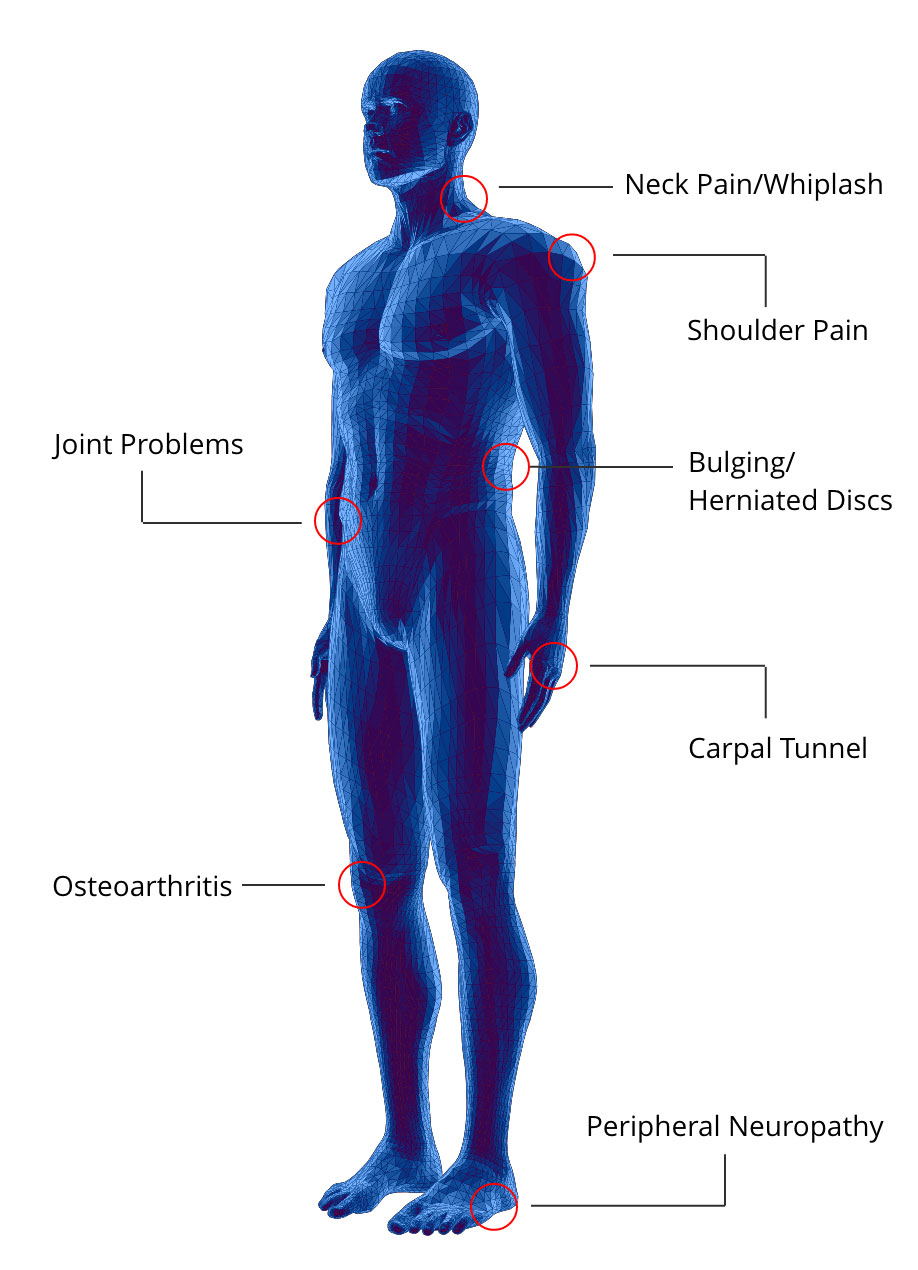 CALCIFICATIONS
Unique pain conditions can develop in muscles, shoulders, knees, hands, and feet, characterized by the presence of excruciatingly painful calcium deposits that interfere with normal soft tissue, nerve, or joint function. We remove heel spurs completely in 1 treatment, shoulder calcific tendinopathy, and knee/foot ligament calcifications in 2 treatments, as examples.
NEUROPATHY
We have the unique ability to resolve peripheral neuropathy including that of physical damage, diabetic, chemotherapy and altered metabolic forms. Our clinic has the most advanced tools/technology required to resolve all forms of peripheral neuropathy.
We are board-certified in the diagnosis and treatment of peripheral neuropathy.
POST JOINT REPLACEMENT PAIN
PUDENDAL NEURALGIA
Pudendal Neuralgia is a remarkably dynamic type of neuropathy – requiring a comprehensive, innovative treatment approach if it is to be successfully and permanently resolved. We have the knowledge, technology, and experience treating both physical and metabolic forms of neuropathy. 
ABDOMINAL ADHESIONS
Many people suffer from the painful effects of abdominal adhesions formation months and even years following abdominal surgery, C-sections, cosmetic fat removal (Lypolysis), gynecological procedures, or infection.
CHRONIC BACK PAIN
Our innovative approach to treating chronic back pain has proven to be both extremely efficient and effective for two important reasons. First, our unique diagnostic process accurately identifies the pain's source, which is crucial if the condition is to ever be solved.
CHRONIC HEADACHES
Our professional use of shockwave therapy integrated with a specialized magnetic therapy unit intended to treat chronic sinusitis and chronic headaches offers an alternative, highly successful option to those who suffer from headaches.
FROZEN SHOULDER
Our high success rate in resolving frozen shoulder comes from our innovative treatment strategy to combine acoustic-based shockwave therapy, with the functional neurological sequences offered with Trigenics.
CHRONIC FOOT CONDITIONS
We offer an alternative, non-surgical solution to the treatment of most foot pain, from the painful nerve compression of Morton's Neuroma to our unique and innovative non-surgical bunion solution process.